Every one of us knows how content has taken the front seat in the marketing world these days. It should be relevant, accurate, and match up to the expectations of your visitors. So, you can captivate and persuade them entirely as far as your business objectives are concerned. Right!
By the way, grammar has always been something very essential for making content look as well as sound perfect. Isn't it? If you have what it takes to create compelling marketing stuff, but your grammar is not there, then I'm sorry, you can lack in a big way. Hence, it's high time you need some grammar checker software like Grammarly.
I have been using it for the past two years and got some astonishing outcomes regarding my writing skills. That's why, today, I'm going to share with you guys a Grammarly review post.
Well, if you're thinking, why only this software. So, please have a look at these points-
Features that make Grammarly one of the best content editor tool in today's day and age:
It consists of fantastic content editing aspects. Following this, you can edit your writing seamlessly.

Its plagiarism functionalities are extraordinary. You can use it to make your content look entirely original.

It analyzes content according to different parameters like engagement, clarity, delivery, and correctness. Well, these metrics get enhanced in the Grammarly premium plan.

The readability score is one of the best chief specifications of this tool. As per which, you can gauge how easily your content will get understood by readers out there.

Besides all this, you can also see your content reading time, speaking time, characters, and words.
So, I'm sure you would love to access all these content writing attributes without spending a penny. Yes, it is one of those writing software, which provides you with insightful features free of cost. And, if you want to foster your content drafting skills to another level, then you can go for its premium plan.
Working:
The use of Grammarly is very smooth. It doesn't require any high computer literacy or technical expertise, for sure. It's a three-step process. How? Know here!
Step 1: Copy-paste your content to the sheet.
Step 2: Make sure you have adjusted writing goals as per your needs and requirements.
Step 3: Lastly, you can edit your content according to different parameters and suggestions provided by Grammarly.
As you can see, it is like a five-finger exercise. You do not need to hustle-bustle. Everything will get done at your fingertips.
Now, let's understand each of its standout features in detail. Here we go!
No More Grammatical Mistakes-

As I have mentioned, how grammar is the most crucial part of writing. No doubt, some of you might be very confident concerning your grammatical knowledge. That's good! However, most often, in a hurry, we make minor grammatical mistakes. With the help of this software, you no longer have to deal with them. It rectifies grammatical slips in no time. Not to mention, the algorithm followed by this grammar checker software is quite processed, so there's no scope of grammatical blunders getting left.
No More Spelling Mistakes-

I know some of you might think how can someone make spelling mistakes. Of course, if you have passed high-school, then you can spell even the complex of words correctly. Yes! Although, while writing content in the flow, sometimes we don't realize, but end-up making a lot of spelling errors. Anyway, with the help of Grammarly, guaranteed, you will never feel embarrassed because of silly spelling blunders. It looks after spellings insightfully and alerts users instantly.
No More Punctuation Mistakes-

As a writer (part-time or full time), you can comprehend the importance of correct punctuation in content. Right! It's undeniable! The misuse of commas, apostrophes, brackets, and possibly all typographical aspects can make your content look misplaced or misunderstood. Simply put, it can change the meaning or message of your content, which you want to put through it. That's why you should never ignore the value of punctuation clarity in your content. Following this content editor tool, you can pinpoint even the minute of punctuation errors and correct them in more than no time.
These are the three most topmost characteristics of this grammar checker software.
Grammarly Pricing:
The pricing plans of this software is available in three categories-
Free- $0
Premium- $11.66
Business- $12.50
You can confirm them here.
Disadvantages-
I have been using Grammarly for two years and grasp some disadvantages in it. Nothing is perfect. Right! Everyone comes with a flaw. So, these are some of the drawbacks that I have felt (your perspective can be different, and that's completely okay) in this content editor software-
Irrelevant suggestions– Yes, within the past two years, I have come across some extraneous pieces of advice of Grammarly, which I have found unfitting into the context of my content. But, I'm talking about rare cases.
Quite Expensive– As we can see, the pricing plans of this software are divided into three categories, such as free, premium, and business. The free pricing plan cannot eliminate your advanced writing alerts, which is possible only in case of a premium pricing model. That, no doubt, quite expensive.
Other than these two things, I have not found anything wrong about Grammarly.
Grammarly Alternatives:
There are various Grammarly alternatives present in the market. Few of them are as follows-
ProWritingAid

PaperRater

OnlineCorrection

WhiteSmoke

JetPack
However, according to content experts, the real battle is between Grammarly and ProwritingAid. Both of them are at the top of their game. However, after analyzing the functionalities of both of them individually, I have drafted a comparison between both of them. Please have a look and make your mind!
Grammarly Vs. ProwritingAid-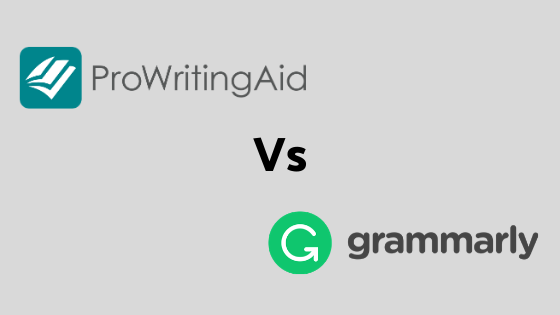 | | | |
| --- | --- | --- |
| Features | ProWritingAid | Grammarly |
| Grammar checker | Yes | Yes |
| Spelling Checker | Yes | Yes |
| Plagiarism Checker | Yes | Yes |
| Punctuation Checker | Yes | Yes |
| Detailed Explanation | Yes | No |
| Browser Extension | Yes | Yes |
| Integration With Gmail | Yes | Yes |
| Integration With Social Media | Yes | Yes |
| Extra Features like repetitive words, intricate text, outdated language, impolite or too direct language, text inconsistencies | Not much | Yes |
| MS Integration | Yes | Yes |
| Pricing Functionality | Yearly | Monthly |
| Expensive | Less expensive than Grammarly | More expensive than ProWritingAid |
As you can see from the above table, Grammarly and ProWritingAid somewhat share the same features and characteristics. However, in some cases, they are different. Grammarly pricing structure is more focused on monthly subscriptions, whereas ProWritingAid is more concentrated on Yearly pricing plans. Some attributes, such as detailed explanations, are not present in even Grammarly's premium plan. On the other hand, ProWritingAid is good at it.
Well, it's decision-making time.
Taking everything into consideration, I can say ProWritingAid is more about polishing the texture of your writing. Whereas, Grammarly is very much about correcting your grammar, spelling, and punctuation. That indirectly adds considerably to the overall context of your content.
Both of them are great. But if you think from a writer's point of view who doesn't want to change the texture of its writing and want to enhance its grammatical game, then there's nothing better than Grammarly for you.
Over To You:
I'm sure no writer wants to feel flustered when it comes to grammar. Right! However, as we know, writing is a demanding job, and most often, we have to brainstorm different ideas, and quickly transfer them into a piece of paper. At that time, grammar nuances can get left to consider. With the help of Grammarly, you can 90% confirm your grammar (Ultimately, it's a bot, nobody can assure you 100%). Yes, it can be a little expensive for individual writers, but believe me, the constant use of it can sharpen your writing skills to another level altogether. Last but not least, every suggestion provided by Grammarly might not go with your content. So, considering it always is not mandatory.
Have I missed out on anything, which might add more value to this Grammarly review? If yes, then feel free to share it in the comment below. Also, don't forget to mention your more preferred grammar checker amongst Grammarly and ProWritingAid.